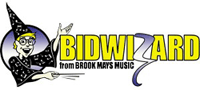 It's as Simple & Easy as 1 2 3.



1. Enter your Teacher user name & password at brookmays.com. Users must first have an approved school charge account with Brook Mays, McFadyen, Pearson, or Caldwell music in order to use the Bid Wizard ™ program.
Register your school online at our School Registration Page or E-Mail us at [email protected] to receive an application packet.
2. Add items to your Bid Wizard ™ cart. Simply shop through the website and search for product as you would normally do, except use the Bid Wizard ™ button instead of the shopping cart button.

3. Submit and receive your bid quote. Our bid department will process your bid request during normal business hours and notify you via E-Mail that your bid pricing is ready to be picked up. You may retrieve your bid pricing by clicking the link in the E-Mail or visiting the website .

That's It! You may now order your reduced price item(s) with a school P.O.
Bid price quotation is for School Educators only and not available to other customers.
Remember to click the Bid Wizard™ button to get prices to prepare your budget on 50,000 musical instruments and accessories!!
Need more information on the Bid Wizard ™ ?
FAQ
Bid Wizard Home

For further inquiries or questions please contact the [email protected].